This feature allows any user to "follow" an application. Users who follow an application receive an email notification whenever another user updates the status or makes notes on that application.
The notification can be used by the organization to prompt the receiver to act based on what was changed on the application. For example, a hiring manager without access to background checks selects a status that indicates this applicant is ready to do a background check. An admin following this application would then know to initiate a background check for that applicant.
This feature is available for ALL user types.

Follow an Application
From within an application, click the Follow button. A pop-up notification will confirm that you are now following this application.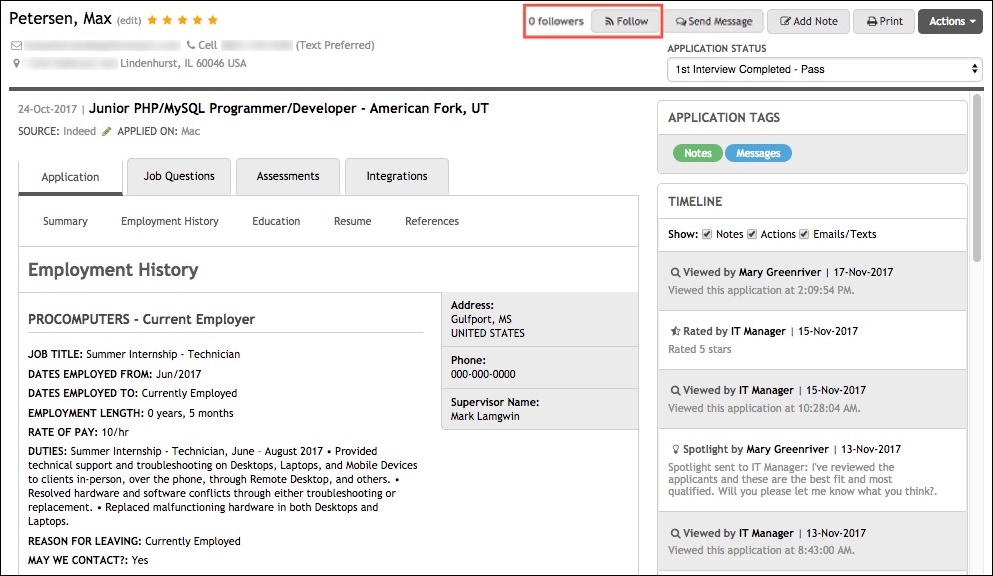 The button will change from "Follow" to "Unfollow," and a new link will appear showing the number of followers.
Hover your cursor over the X Followers link to view other users following this application.
**Note** If more than 15 users are following an application, the first 15 followers will be displayed and the last entry will read "And X more." The X indicates the number of additional followers beyond the 15 displayed.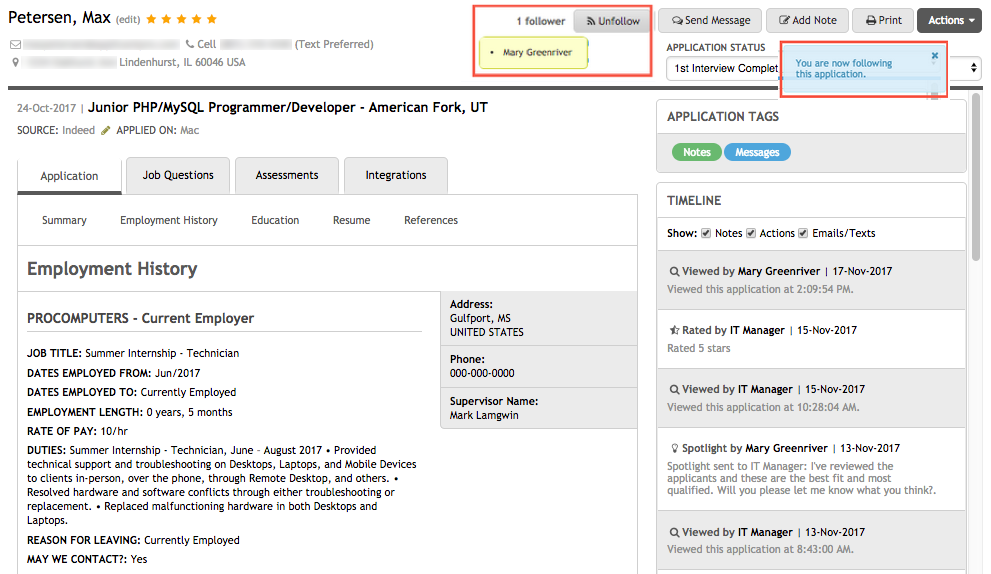 Once you follow an application, you will receive an email notification when a note is added or a status changed for that specific application. Email notifications will include the details of the status update or the notes.
You will not get an email for changes you make to the application, only for changes made by other users.
Email notifications for a status update will indicate that information in the email subject and body.

Email notifications for new notes will indicate that information in the email subject and body.

Replies are not allowed to these email notifications.
Assigned users will not be included in notification emails for applications they are following if the application has been unassigned to them.
Unfollow an Application
Click Unfollow to stop following the application and stop receiving notifications. The label on the button will change to "Follow." A pop-up notification will confirm that you are no longer following this application. The number of followers link will update accordingly.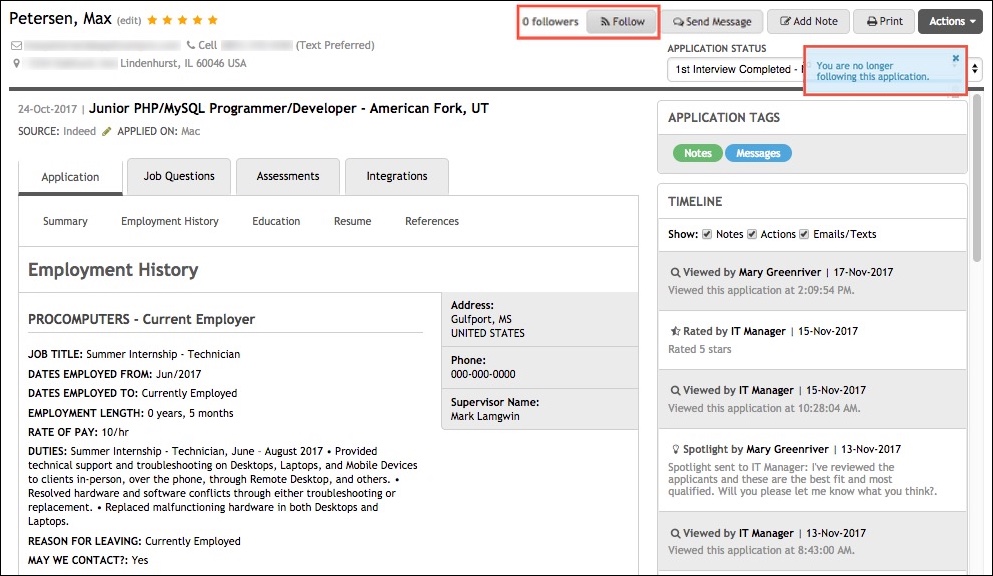 If an Assigned User is following an application and the application is unassigned, the Assigned User will also automatically be marked to "unfollow" the application. An Assigned User will no longer be able to access an application which has been subsequently unassigned, and will receive an error message reading: "You are no longer assigned this application."
Common Questions
Will I receive an email for every status change and note added to an application I'm following?
Yes; you will receive an email for each status change made and for each note added. If a note and status change are made at the same time, you will receive 2 emails.
Can I follow an application after I've unfollowed it?
Yes; you can follow or unfollow an application as often as needed.