Assigned users have the same applicant access as a Non-Posting Manager. But rather than seeing all applicants by job or by business unit, the manager only sees applicants that are specifically assigned to them. Applicants can be assigned to users in groups of one or more on the jobs dashboard or can be assigned one-at-a-time from within the applicant record from the Actions button.
If you have multiple career sites, these users only have access to one career site using the same username or email.
Processing Applicants - Link Login
As an Assigned User, you will get an email notification when a new application(s) are assigned to you.
The email notification subject will be read You Have Been Assigned a New Application (or Applications if multiple applications are assigned at once) and will come from no-reply@applicantemail.com.

Click on the link included in the email. Once logged in, you will be taken directly to the application.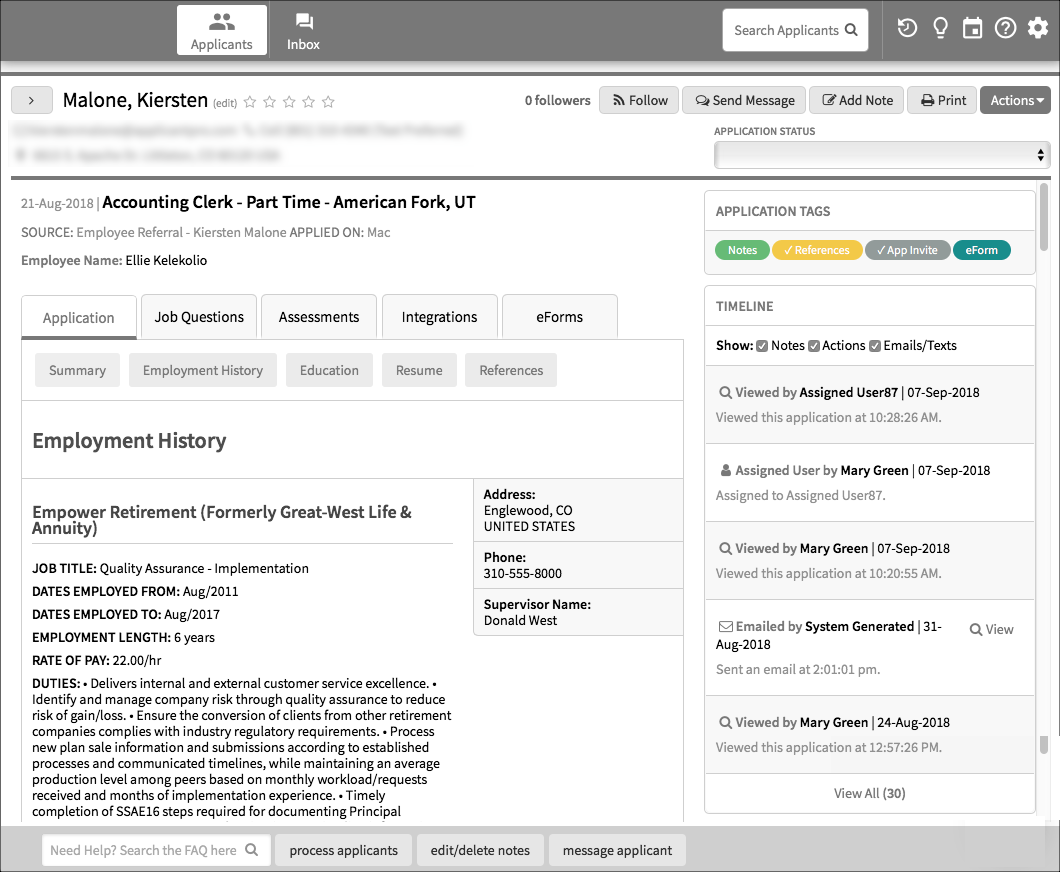 You can change the application status using the Application Status drop-down menu on the upper right of the application.
Click Follow to follow the application. Users who follow an application receive an email notification whenever another user updates the status or makes notes on that application.
Click on Add Note to add a note to the application.
Click Send Message to text or email the applicant.
Click Print Application to print the application.

The Timeline is on the left-hand panel. Application status changes, uploaded documents, notes and messages are recorded in this section. Notes, Actions and Emails/Texts can be filtered by checking the boxes next to Show. Click View All at the bottom of this section to see ALL history.
For a more detailed explanation of your options, see the numbered list in the next section.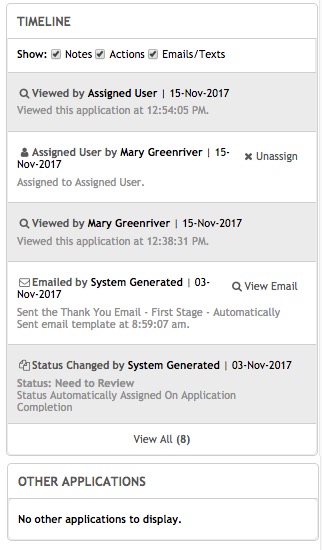 Processing Applicants - Login Page
To login to the system directly, enter https://admin.prevueaps.com into your browser.
Enter your username or email and password and then click Log in.
If you login directly to the system with your username and password, you will see the list of applicants assigned to you. You can open individual applicants to view their applications by clicking on Action>View next to the applicant's name.
Use the drop-downs to filter which applicants you view or to determine how applicants are sorted. You can change any filter criteria and click Filter to update the results. Active, qualified Applicants for the last 90 days will show by default. By clicking the Show Sent Emails box, you can view which email templates have been sent to the applicants displayed. Status applicants individually, or en masse, from this screen.
Search for applicants by entering a keyword, their first name, last name, email address or phone number in the Search Applicants field in the header. Click the magnifying glass to select the type of search and to view results. You can also perform Mass Updates using the Manage Selected Applicants area at the bottom of the page by checking the box next to the Applicants who are to be updated and then click an option from the drop-down menu in either the Change Active or the Update Status menus.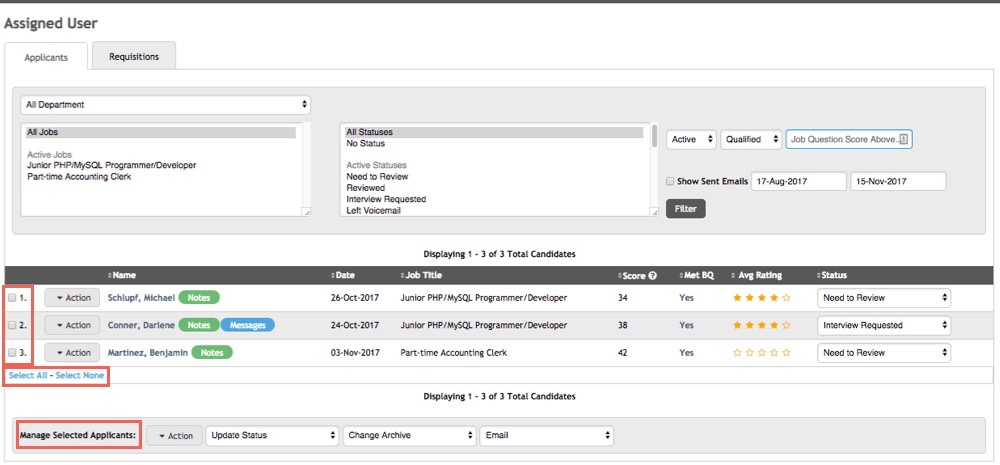 Click Action>View to go into an individual applicant record.
The section at the left will display a filter, if you have been assigned more than one applicant. Use the drop-down options to narrow your search.

1. Applicant Filter:
If you have previously filtered for a group of applicants, only those applicants will be displayed in this section, with the selected filters displayed. You can adjust the filters in this section and click Filter to adjust the filtered applicants.
2. Applicant Profile Information:
This section shows the applicant's contact information. Click (edit) to edit the applicant's profile information. This will change the information for EVERY application for this applicant.
If enabled, choose a star to rate the applicant.
3. Application Information:
This area will look different, depending on the features enabled on your account.
Click on the tabs and labels to navigate through the application information.
If any integrations are enabled on your account, you will be able to click on the tabs and initiate other functions like background checks, assessments, onboarding, etc.
4. Action Buttons:
When viewing the application, you will find buttons at the upper right to do different tasks.
Send Message: Text or Email the applicant.
Add Note: Add a note on the application, or add a note and change a status simultaneously.
Print: Print the application.
Action: Includes a variety of other actions you can do with the application record, some features are optional.
5. Application Status:
You can status an individual application using the Application Status drop-down menu. If you hover over any given status, and if the status has an assigned description, the description will appear to help you determine the appropriate status selection.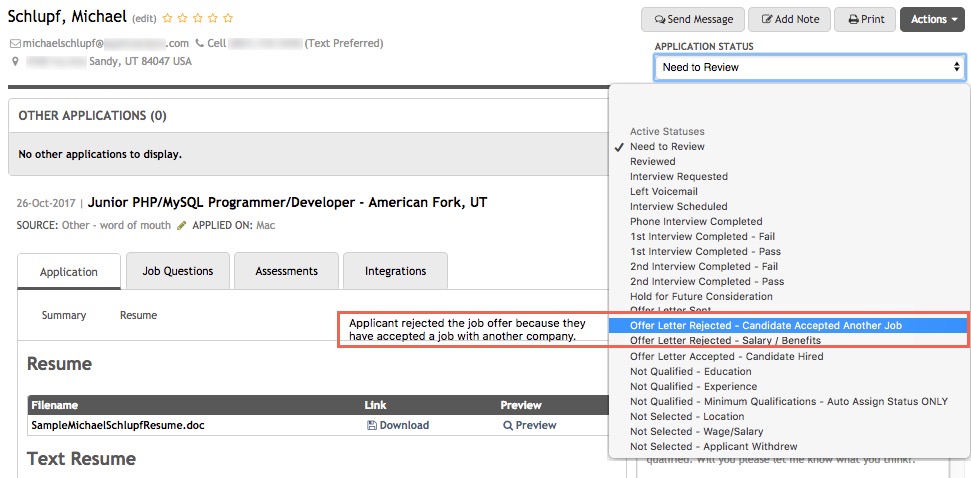 6. Timeline:
This area tracks any changes to the application, including notes, actions and emails/texts sent. There are 3 different views of Timeline/Other Applications. An Admin user can contact the Support Team to change the view for all users in the organization.
7. Other Applications:
This area displays any other applications this candidate has submitted.
8. Help Center:
There are 3 different ways to use the Help Center to quickly find answers to your questions.
Need Help?: Begin typing any word or phrase to search our entire Help Center.
Common Questions: Click this button to see a filtered list of commonly searched articles based on the page you're on.
Featured Articles: Click any of the featured article buttons to see the most commonly searched articles based on the page you're on and your user type.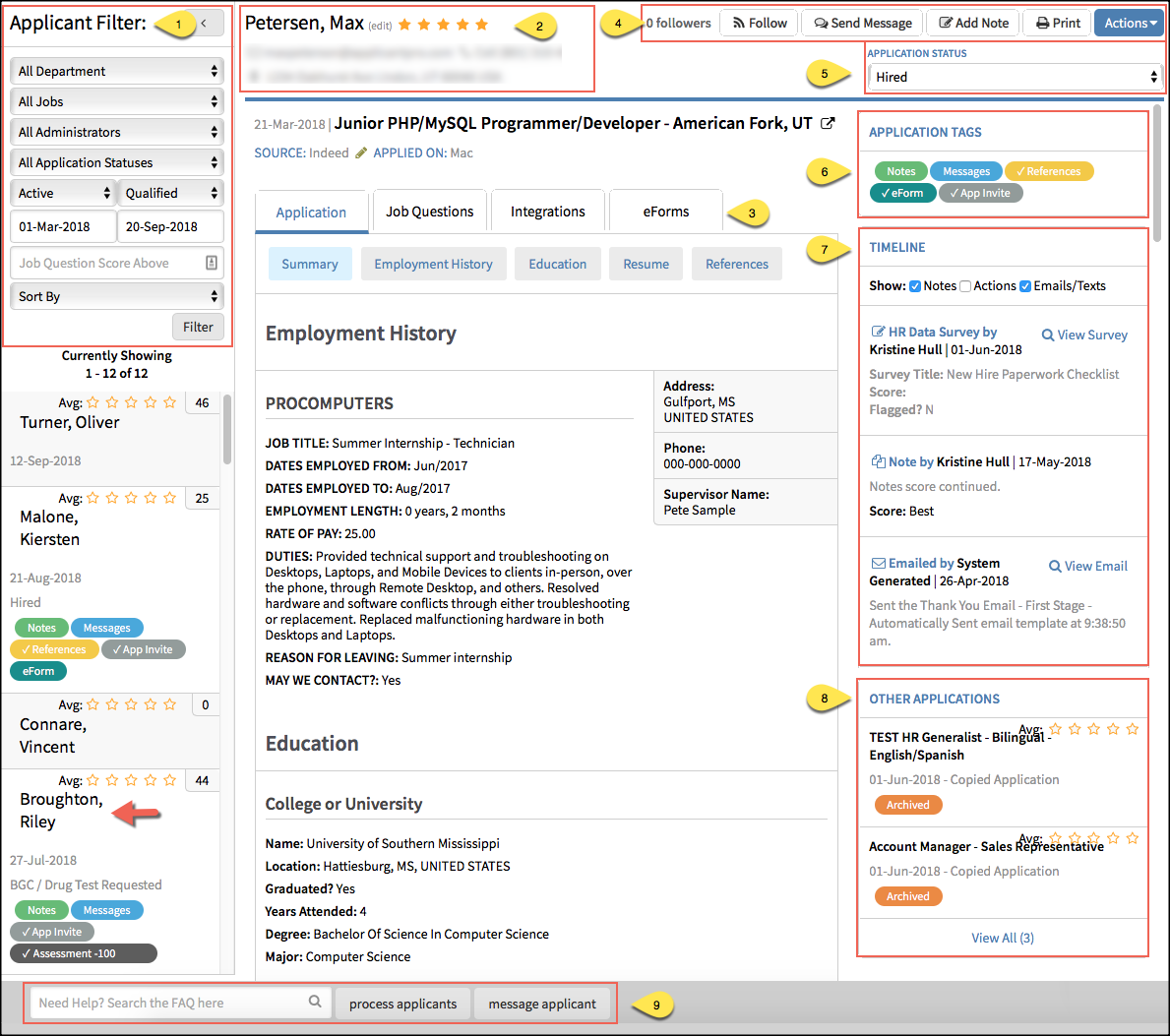 Link to Job Info
An arrow icon is displayed next to the Job Title within the application record. This enables you to quickly access details from the Job Listing and Requisition (if applicable).
Hover over the arrow icon to see basic details from the Job Listing.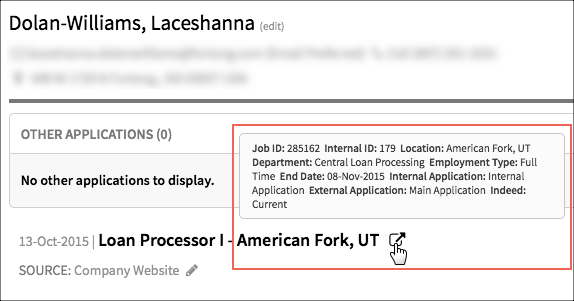 Click the arrow icon to open a separate preview page with the Career Site Description and Job Details.
If the job listing is linked to a Requisition, an additional section called Job Requisition Details section is also displayed.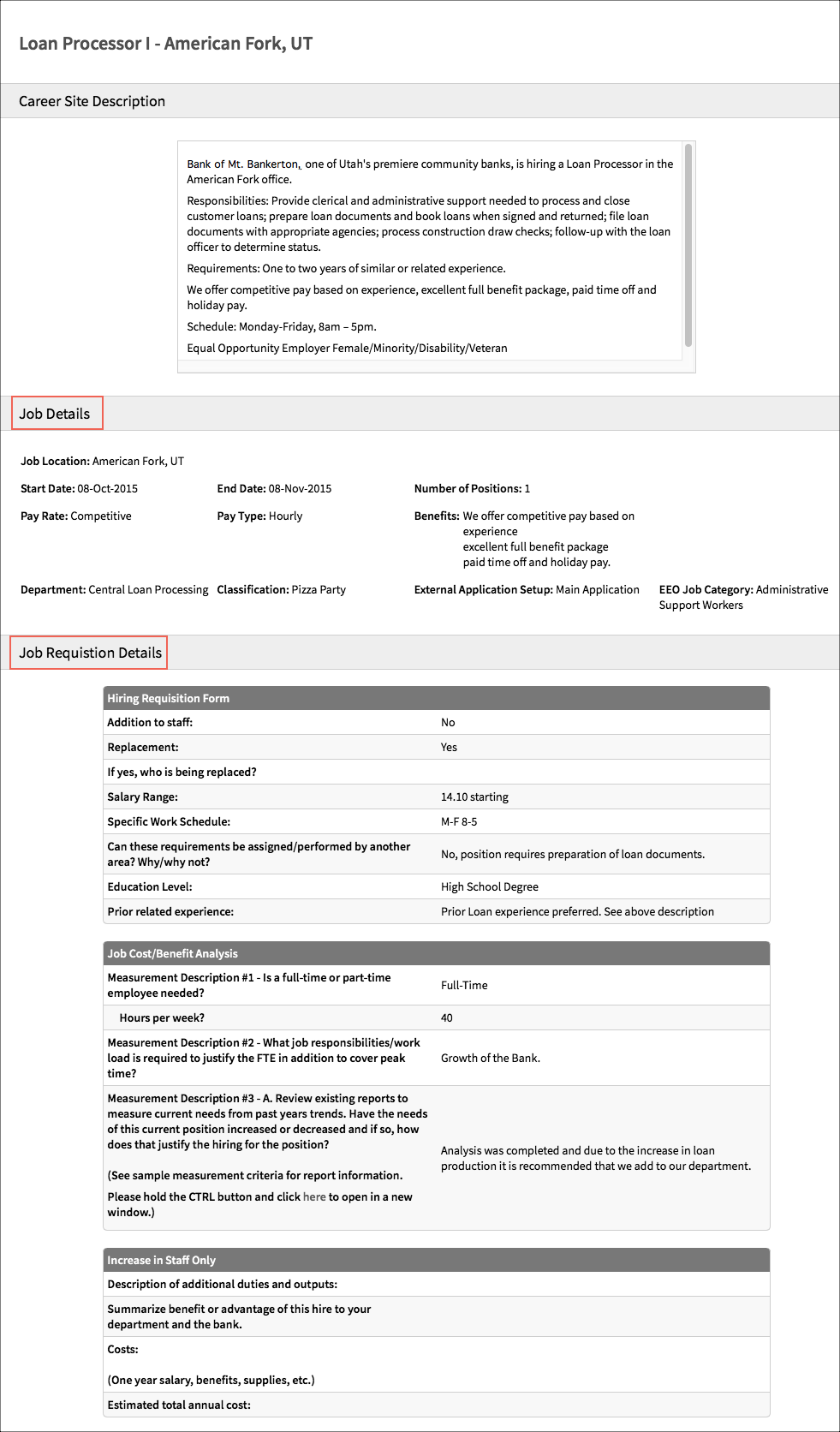 My Account
In this section, you are able to view and edit your account information. If you would like to update/change your username and/or password for the PrevueAPS system you can type in the new username/password in the directed field(s) and then click on Save Changes.
You can also use the Calendar Connect section to subscribe to your calendar events in the system by connecting your calendar.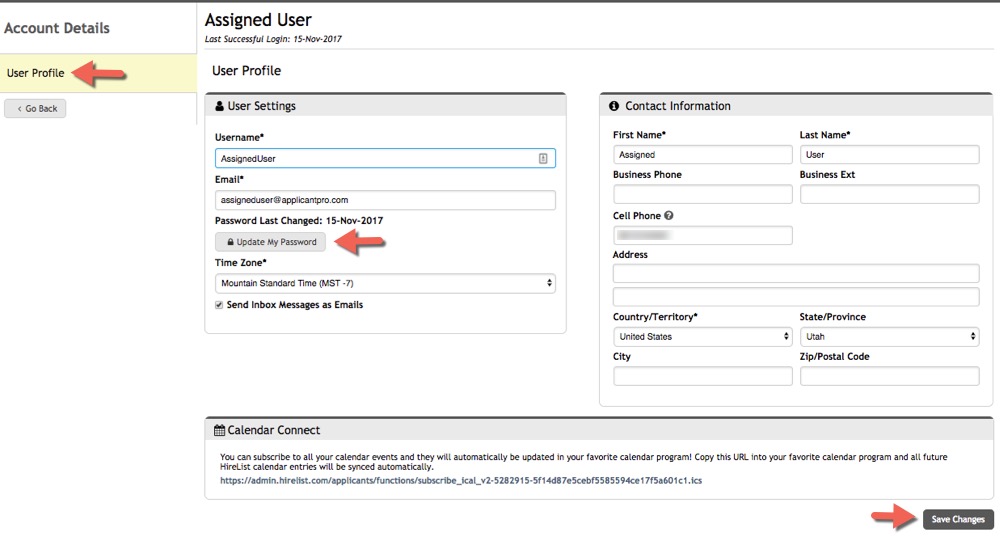 My Spotlights (optional)
The Lightbulb icon will show any applicants that have been spotlighted for you by other users in your organization. You can view active and/or inactive spotlights by clicking the arrow next to Active. Click on each listed applicant to open their application. (If you do not have Spotlights turned on, but would like to try using them, contact your Admin and they can request that feature be enabled.)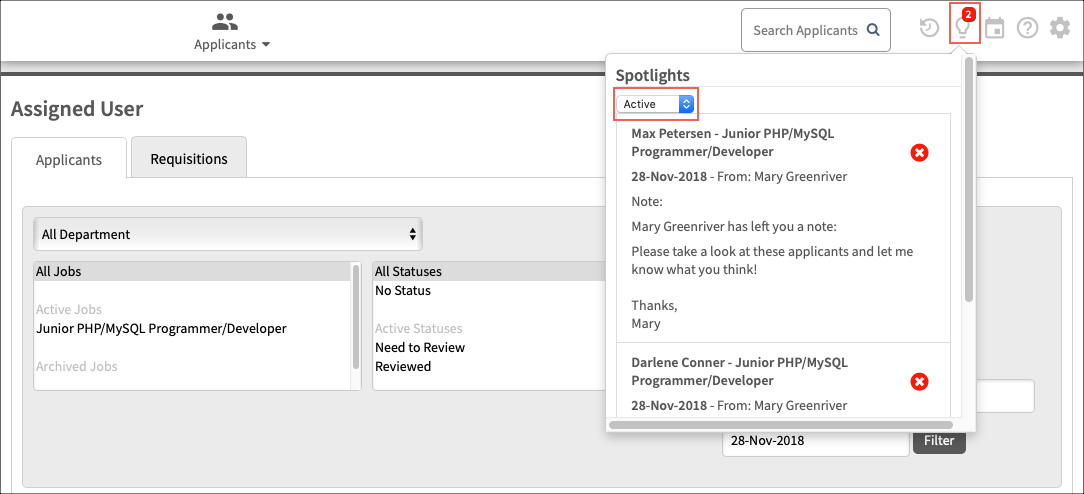 Communication Inbox
Please click here for the Communication Inbox User Guide.
Requisitions (optional)
If you have Requisitions enabled on your account, please click here for that User Guide.
Common Questions
Why would I make a user an Assigned User?
Assigned Users have the same applicant access as a Non-Posting Manager, but only have access to specific applications you assign to them.
Can Assigned Users modify applications?
The assigned user role sees applications just like a Non-Posting Manager. The toggles available to turn on for Managers are also available for Assigned User.
Who can assign applications to another user?
Admins and Managers can assign an application to an assigned user. Once the application has been assigned, the assigned user can re-assign the application to other assigned users.

Admins and Managers can also unassign the application from any Assigned User.

A single application can be assigned to multiple Assigned Users.

A group of applications can be assigned to a single user at once using the Mass Update feature
Can Assigned Users view other applications?
By default, no. However, there is a setting the Support Team can enable that will allow Admin users to grant access to Assigned Users to view limited information on applications to which they are not assigned. When an Assigned User is viewing a particular applicant on the applicant information page, if this option is enabled, the Assigned User can see other jobs that applicant applied to. They will only be able to view very basic information about the application.